What's Here

Introduction

Information

About CLAMP

Links
Now why would Archen make a page about an anime film that's only half an hour? Well after seeing Miyuki in Wonderland, I decided to look around for more information about the film. And thus I discovered that there were no pages about it. The most information I found on it were little side notes that it was created by CLAMP. While an entire page about it, might be a tad bit excessive, I thought I'd make one so that other people could learn more about it.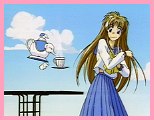 Now about the nature of this show.... well, it's a tad bit..... naughty. Granted that I've heard it called hentai, I think that is pretty far off the mark. But I suppose that all depends on what you consider to be perverse. Yes, it's pretty much orientated towards very mild sexual overtones, but it's nothing TOO bad, and that is meant to be part of the humor of the show. Even though this film is only mildly "naughty", that may be exactly the reason some people should NOT see it. Anyone looking for hardcore hentai will not like this show, but by the same standards, little kids probably shouldn't see it either (or anyone offended at even the HINT of sexual overtones). Miyuki chan in wonderland is sort of in a grey area.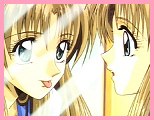 So what is Miyuki chan in Wonderland about? Well it's based off the manga, which is based off of Alice in Wonderland, and Through the Looking Glass by Lewis Carroll, so you sort of know what to expect. I will not elaborate any farther however, since I think that would sort of ruin it for anyone that hasn't seen it. Probably the most interesting thing about this anime, is wondering what similar, yet different character Miyuki will meet, such as the Bunny girl on the skateboard, the cat girl, and of course the S & M Queen of Hearts. Theo Ching probably summed it up best by saying, "... the characters ask her name, she answers "Miyuki," and then they try to get fresh with her."
To make a long story short... Who should see this? The best determinant: Did you like Otaku no Anime? If you answer yes, this is a must see. This is the sort of anime for anime fans film. Not too much is developed in a story or plot, but noting was meant to be developed either. For those that haven't seen Otaku no Anime: a person should be interested in seeing a really interesting (and weird) piece of well done anime (with some slightly ecchi humor), or anyone interested in seeing lots of cute anime girls (terrific character designs). Being that this film is about $30 for 35 minutes, a person should be cautious about buying it, but I think as rental it is a definite go! I personally enjoyed it.