Her golden eyes, they are strange, and yet beautiful...
They'll close the gateway to your tears...
stopping the flow of the hourglass of time...
Severing the string... known as misery,
the sound... and the rhythm... disappear...
Vampire is based off of the manga of its namesake created by Narumi Kakinouchi. Kakinouchi's artwork underwent a fair amount of transformation since her artwork is not the sort of thing which you could really directly translate into anime form. It was also released in 1988 so the character designs are a telltale sign of the age of the series, although character designs were well done. Instead of simply translating the same story as was done in the manga, we are introduced to a spiritualist named Se Himiko, and through her we see what Miyu's world of shadows is like. A look into the darker world, where mysterious creatures which defy explanation, good and evil are not so clear, and even reality itself is subject to being questioned.
---

At one time, gods and demons were as one. They were sealed away in the abyss of distant memory. The hearts of humans who feared the dark brought this about. For the present, let us call these beings "Shinma".

They awakened from their slumber and gathered in the dark. On the final night of that gathering, when Shinma and Humans met again, a young girl strayed into their midst. This is her story. Her name is... Kyuukestuski Miyu

---
-:- Unearthly Kyoto -:-
Himiko is investigating the possession of a young girl, when she hears about the rumor of a vampire killing people. While snooping around for the Vampire, it finds her. As it moves in for the kill she is saved by a young girl. But this is no ordinary girl. She has golden eyes and a cloaked companion - hobbies include: hunting Shimna and sucking the blood of nubile young males! The girl's name is Miyu, who disappears soon after saving Himiko.
The next day Himiko sees Miyahito with Miyu's fangs on him! Miyu explains that this is what he wanted, and that the vampire that kills is really a Shinma. Miyu disappears again. Himiko goes back to investigating. Even if there is that pesky vampire girl running around, she still has a job to do. The trail leads her back to Aiko. As it turns out Aiko was possessed by a Shinma. Miyu appears and sends the Shinma back to darkness, for that is her duty. Himiko is basically left scratching her head wondering who that vampire girl was, but she would soon find out...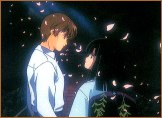 -:- Banquet of Marionettes -:-
In episode 2 we see Miyu in a different setting: a school. At the school students have been disappearing... a good job for a spiritualist like Himiko. Mean while Miyu has taken a liking to a certain boy named Kei who is in love with a Shinma. Miyu is determined to do away with her competitor. It's her duty after all. More importantly, if anyone is going to be sucking the blood of the cute guys in school, it's going to be Miyu! Himiko encounters Miyu again. This time Miyu tells a little about herself and Larva. As usual Miyu disappears and leaves Himiko standing around gawking, and looking like a moron (darn vampires!). Eventually Miyu and the Shinma have a showdown, but it's too late for Miyu,for Kei has already been claimed as the Shinma's prize. She sends the Shinma back to darkness. Miyu is both the winner and the loser.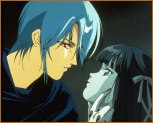 -:- Fragile Armor -:-
Miyu needs some help. Help from Himiko no less. Himiko agrees to help if Miyu tells her about Larva and herself. Miyu agrees. Thus the two encounter a giant armored warrior. Miyu chickens out and leaves. Himiko chants and drives off the Shinma. Later she is taken to where Larva is being imprisoned and Miyu tells the story of how long ago she met Larva....
Miyu was watching the ocean when Larva came to her (to kill her). He tells her there is nothing to fear. As he draws closer he finds out that Miyu may have different plans. After all, he's a handsome guy with a nice neck (See? Girls really do mature faster). Miyu's vampire blood awakens and Larva gets the hickey of his life. As punishment for not being able to kill Miyu, his face is hidden behind a mask, and his voice taken from him. Thus he became Miyu's companion...
Himiko snoops around, eventually encountering a man who knows about the armor suit she seeks. As it turns out he's a Shinma, and manipulating the armored warrior that thinks he's a Shinma, but is really human. Miyu appears. She only used Himiko as bait to draw out the Shinma! (Darn vampires!) The Shinma's name is Lemures and he was once Larva's friend. Miyu decides not to send him back to darkness but to bar-b-que him instead. As for the armored man...he was killed by the police who thought he was going to attack, just as he remembered he was human.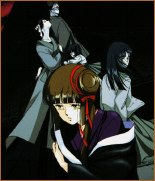 -:- Frozen Time -:-
Himiko decides to go to a part of Kyoto where she lived as a child. She had a disturbing memory there once that she can't quite recall. She encounters a strange old house in which Miyu is waiting. While talking, Miyu sees something about Himiko, and makes an abstract comment about how some people go on living after their blood is drunk, and one day their blood "wakes up". Miyu decides to tell the story of how she became a vampire...
Miyu is a young girl of 13. Her father is a distant man who is out of touch with reality, but she has a loving mother. After the encounter with Larva, her vampire blood began to awaken (notice that Miyu's eyes are brown when human but gold when a vampire). Miyu doesn't want to be a vampire (because blood sucking is unsanitary, anti-social, and doesn't look good on a resume). Yet the time came for her to be recognized as Shinma. Miyu's family are Shinma responsible for acting as guardians to ensure the sleep of the Shinma in darkness. Miyu is nearly forcefully initiated, but Larva interferes. Eventually Miyu was captured. Time was stopped for her and her parents until Miyu hunts down all the stray Shinma of Larva's clan and returns them to darkness...
Himiko awakens from a daydream. Did the encounter really happen? Then she remembers the disturbing memory. When she was a child she encountered another girl...Miyu...
Best Quote by Miyu: "I drank his blood. He's mine!"

← VPM: Main
← Anime Series
← Main Site
© 1997