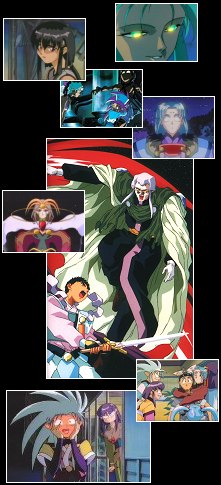 The first series of OAV's mainly covers the introduction of characters, along with small side stories. Episode 1 - The demon Ryoko gets revived and she chaises Tenchi around his school. Episode 2 - Aeka arrives, and she chaises Ryoko (and Tenchi) around in space. Episode 3 - Everyone goes to the hot springs for a relaxing bath... but of course nothing is relaxing with Ryoko and Aeka around. Luckily Mihoshi saves the day!... eh.... sort of. Episode 5 - Everything seems normal, until the arrival of Ryoko's old master Kageto, who is bent on getting the secrets of Jurai. Kageto kidnaps Ryoko, and awaits Tenchi's challenge. Episode 6 - Ryoko manages to escape and challenge Kageto to no avail. Aeka isn't powerful enough, and Mihoshi is stuck in another dimension with the genius Washu. Even the power of Tsunami doesn't seem to be able to help much. Only Tenchi can save the day. The first OAV special is... well an odds and end collection of events, but of course you wouldn't want to miss nurse Washu playing doctor on Tenchi!
The second OAV series is where things really start to get interesting. More weird plots, more weird adventures, more Tenchi! Episode 8 - The Tenchi gang have adventures in babysitting. Episode 9 - We learn of the special relationship between Tsunami and Sasami. Episode 10 - poor Ryo-oki just wants to help. Unfortunately everything goes into chaos, when a blob intent on helping Tenchi might blow him up! Episode 11 - strange things are amiss, and Washu's old enemy Dr. Clay is going to kidnap her. So a Ryoko clone takes Ryoko's place. But that's such inappropriate behavior for a clone! Episode 12 - Everyone's off to rescue Ryoko again, but this time Washu has a score to settle. Episode 13 - Aieee!! It's Aeka's family come to visit!
Special Note:

Make sure you watch the end of Here comes Jurai. There's actually a second part on the tape. You won't want to miss Washu's experiment on Ryoko.