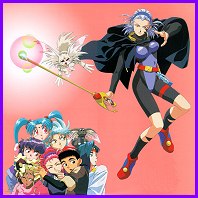 Other Characters
---
Even though I didn't think it was a very good idea, I decided to make a short section on the other characters of Tenchi Muyo. These are by no means in depth profiles, so I didn't even so much as include pictures of characters. Right now I'd just like to get this page done, and not spend another week working on more character pages, so I kept this really short. I have nothing on Miyuka yet since I haven't seen Midsummers eve yet, and I'd rather not talk about a character I know very little about.
Nobiyuki Misaki

Nobiyuki is the father of Tenchi. He has black hair and brown eyes. In his younger years he was very shy. Later in life he seems to have become a pervert. He also has a knack for getting into accidents, and collects girls comic books.




Azaka & Kamadake

These two are two guardians of princess Aeka. In the OAV the seem to have the ability to consume people and imprison them. In the TV series, they are servants programmed with the personalities of the legendary warriors they were named after.




Nagi - tv

Nagi is a the best bounty hunter in the galaxy and the arch-rival of Ryoko. Nagi has a ship just like Ryo-oki known as Ken-oki. Nagi is very serious, and is bent on defeating Ryoko and getting a reward for her capture.




Asuza - oav

Asuza is the father of Aeka and the current emperor of Jurai. He is serious and not very approving of Yoshou who disobeyed his wishes. He has purplish hair and red eyes.




Misaki - oav

Misaki is the first wife of Asuza, and the mother of Aeka and Sasami. She has blue hair, and red eyes. Misaki adores anything cute, and has unusual mood swings.




Funaho - oav

Funaho is the mother of Yoshou. She is very serene, calm, and collected person. She was born on Earth and is 100% human. She is the second wife of the emperor of Jurai Asuza. She has black hair and brown eyes.




Tokimi - oav

Tokimi is a mysterious ten dimensional being who seems to have an interest with meeting Washu. More theories on my opinions page. She has red eyes, orange hair (in places) and... well I can't really describe the rest of her.




Zero - oav

Zero is a robot created by Dr. Clay. Zero has the ability to shape shift into any form, as well as assume personalities. Zero is occasionally prone to certain glitches in her system.




Dr. Clay - oav

Dr. Clay was once a member of the Science Space Academy. He believes he was kicked out as a direct result of Washu, and has had a grudge against her ever since. Dr. Clay believes his inventions are perfect, and is currently in service to Tokimi. He has the habit of marking this favorite things with a special mark. He has gray hair in the shape that gave him the nickname "octopus-head", and wears a patch over one eye.




Kagato

Kagato in the OAV was an evil genius scientist who controlled Ryoko, and was supposedly responsible for making her do evil deeds. Kagato seems to have learned from Washu, and imprisoned her on the second side of his ship the Souja. In the TV series, Kagato was a royal decedent of Jurai, whom Yoshou defeated in his youth.