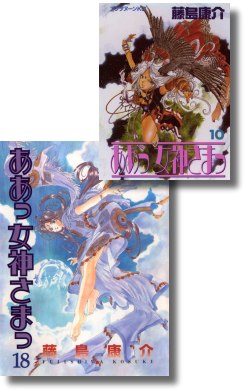 Aa! Megami-sama - Japanese
The Japanese is of course the original form of Aa Megami-sama. Aa Megami-sama has been a section of a magazine called "Afternoon" since 1988. Afternoon is a magazine containing a collection of different manga titles from various artists. Each AMG story is fragmented over each issue of Afternoon; making it harder to read, but being a bigger incentive to buy the next issue. These manga collections are rather common in Japan. You may wonder why a series like Aa Megami-sama would be a small section in a magazine. Well, getting a start in Japan isn't an easy thing for an artist. The best place to gather a following is to get into a magazine such as Afternoon. Then people who read it for other sections may also browse through your comic. Another advantage is that the story can be drawn out longer since segments tend to be very short. This lessens the demand on the creator. Obviously there is a huge advantage to a magazine such as Afternoon to have a flagship series such as Aa Megami-sama.
I believe Afternoon actually owns all printing rights as far as reprinting Fujishima's stories. All the sections of Aa Megami-sama printed in Afternoon are periodically collected into manga volumes. The manga collections contain a few complete stories from the series. Typically they run about 180 - 200+ pages. Paper and printing quality is pretty good, and of course you get a spiffy bookmark like you do with all Japanese books.
The price for an Aa Megami-sama collection seems to run around ¥437.